Bookmark us!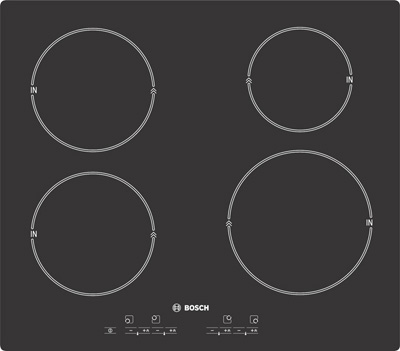 Tell a friend about this!
Bosch PIE640E01E 4 induction zone hob - DISCONTINUED

# 4 induction zone hob
# Frameless black ceramic glass
# Dimensions (H x W x D) 58.8 x 591 x 518 mm
# Submerged depth 53.1 mm
# Minimum worktop thickness 30 mm
# Aperture dimensions (W x D) 560 x 490 mm
# Only pans made of ferrous metal are suitable for use on this hob - simply test your pans with a magnet - if it sticks to the base then they are suitable for induction cooking

* 4 induction zone hob with black ceramic glass
* Electronic front touch controls
* Power on indicator
* LED read-out of selected temperature stage
* Boost setting for all zones - increases the power output of the selected zone by 50%, it achieves this by borrowing power from another cooking zone. When boost is used on one zone, the contributing zone cannot be used. This function is particularly useful if you need a high heat for example on stir frying with a wok, or making toffee.
* Automatic pan recognition - the hob recognises the size of the pan and only heats up the base of the pan and not the whole cooking zone, saving time and energy.
* Anti-overflow protection - if liquid accidently overflows onto the control panel, the hob will automatically switch off allowing you the opportunity to clean up - for example if your potatoes boil over.
* Small utensil detection - if you leave a serving spoon over a zone when it is turned on, the hob will not recognise it as being suitable cookware and will automatically switch off, giving you complete peace of mind.
* Automatic safety shut off - if the hob is left unattended for an extended period of time, the safety shut off facility ensures the hob turns itself off - for example if the hob is accidently left on for a long period of time after cooking has finished, the hob will turn itself off.
* 2 stage Hh residual heat indicator for each zone - 'H' residual heat is sufficient to finish cooking with or to keep items warm. 'h' residual heat is insufficient to cook with, but the cooking zone is still hot - so care must be taken around the hob.
* Variable 17-stage power settings for each zone - giving you the control and responsiveness of gas, so that the exact heat you require can be maintained.
* Direct access function - allows immediate access to the maximum power level with one simple touch, removing the need to select each power level in turn.
* Child lock - standard on all touch control induction models, prevents inquisitive little fingers inadvertently operating the hob.
* Total electrical connected load 7.2 kW
* Maximum current draw 32 amps

Code: G82557

Availability: Out of stock
Only £551.49 incl VAT.