Bookmark us!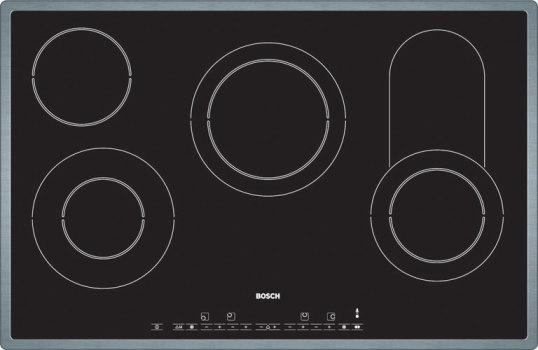 Tell a friend about this!
Bosch PKC845T02E Extra wide 4 zone ceramic hob - DISCONTINUED

# Extra wide 4 zone ceramic hob
# Black ceramic glass
# Brushed steel trim
# Dimensions (W x D) 795 x 517 mm
# Submerged depth 47.5 mm
# Minimum worktop thickness 20 mm
# Aperture dimensions (W x D) 780 x 500 mm

* Frame finish extra wide 4 zone hob with black ceramic glass and brushed steel trim
* Electronic front touch controls
* Power on indicator
* 4 Quick Therm zones - for improved control and flexibility heat is delivered to the cooking zone in approxiamately three seconds, and reduces as soon as you select a lower temperature - quicker than traditional electric sealed plates.
* LED read-out of selected temperature stage
* Timer with automatic shut off function for all zones - a convenient 99 minute timer with acoustic tone, which automatically switches off the zone once the cooking time has come to an end.
* Automatic boil start - the cooking zone may be set to operate at full power for a period of time before reverting back to a pre-set power level - great for boiling pasta or buttery pilau rice.
* Memory function - ideal for regularly prepared items where you always use identical volumes. This convenient function allows you to input the various times and temperatures used throughout the cooking process which can then be repeated at anytime. Upto 5 stages per memory setting. One memory setting per cook zone.
* Automatic safety shut off - if the hob is left unattended for an extended period of time, the safety shut off facility ensures the hob turns itself off - for example if the hob is accidently left on for a long period of time after cooking has finished, the hob will turn itself off.
* 2 stage Hh residual heat indicator for each zone - 'H' residual heat is sufficient to finish cooking with or to keep items warm. 'h' residual heat is insufficient to cook with, but the cooking zone is still hot - so care must be taken around the hob.
* 3 dual circuit zones saving energy if using smaller pans - available on selected ceramic hobs, this energy-saving feature means that depending on the size of the pan, you can select the smaller cook zone for small pans, and the larger zone for larger pans.
* 1 extendable zone to accommodate a larger pan, fish kettle or special cooking vessel
* Variable 17-stage power settings for each zone
* Direct access function - allows immediate access to the maximum power level with one simple touch, removing the need to select each power level in turn.
* Child lock - standard on all touch control ceramic models, prevents inquisitive little fingers inadvertently operating the hob.
* Total electrical connected load 7.9 kW
* Maximum current draw 35 amps

Code: G82556

Availability: Out of stock
Only £656.67 incl VAT.