Bookmark us!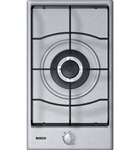 Tell a friend about this!
Bosch PCH345DEU Domino gas hob - DISCONTINUED

# Wok-style burner domino gas hob
# Brushed steel
# 30cm wide

* Wok-style burner gas domino hob
* High speed central burner (3.6kW)
* Easy to use front-mounted controls
* One hand ignition via control knobs
* Black enamel pan support and burner cap
* Flame failure device
* Suitable for conversion to LPG (jets included)
* Optional accessory:
* Domino connecting strip NEZ 34VLA

Code: G82562

Availability: Out of stock
Only £203.45 incl VAT.