Bookmark us!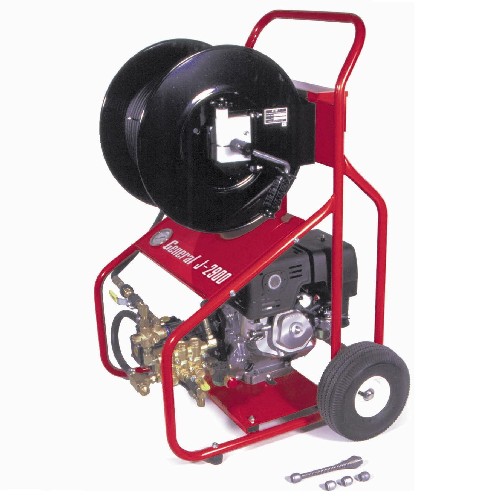 Tell a friend about this!
GENERAL WIRE SPRING CE 11HP PETROL JETTING DRAIN CLEARER Excluding CR-300 - J-2900-B - COLLECTION ONLY

Ideal for cleaning soft stoppages such as grease and ice from drain pipes in 2in. to 4in. pipes. The 11hp Honda engine with low oil shut off is connected directly to a 3000 lb/sq.in., 15 litres per minute triplex pump with on demand Vibra-pulse. A 300ft. capacity hose reel with reel brake and brass swivel is mounted on a heavy duty frame with two pneumatic tyres. Standard features include a thermal relief valve to protect the pump from heat damage, together with a backflow check valve and inlet filter. Complete with 200JH2 3/8in. hose, JN-40 nozzle set, rubber gloves. JN-40 ¼in. Nozzle Set includes : JN-41 15º Angle Nozzle. ¼in. NPT thread; JN-42 15º Angle Nozzle with forward jet. ¼in. NPT thread; JN-43 40º Angle Nozzle. ¼in. NPT thread; JN-SL-5 Spring Leader Nozzle. ¼in. NPT thread. Weight 121.2 kg. Watch JetSet video on You Tube


Technical/Manual
Technical/Manual
PLEASE NOTE: The Product and its Price is subject to Collections Only. We would advise customers to book this product by contacting us in advance before arranging a collection from us. A Percentage deposit may be taken before you call in to collect and the rest on collection. We would advise you to bring a proof of ID so that the order can be processed smoothley. Unfortunatly, due to the bulky/fragile nature of this product we will not be able to provide delivery.

Product Code: J-2900-B

Availability: PreOrder ( Pre-Order )
Only £5306.15 incl VAT.