Bookmark us!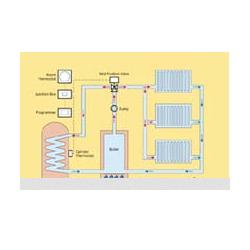 Tell a friend about this!
Drayton Biflo 66 Control Pack

In a fully pumped system the boiler provides a common supply of heated water which is fed to the motorised valve by the pump. The mid-position valve has three positions of operation, these depend on demand from the thermostats.
In 'mid-position' the valve directs the flow of heated water to both heating and hot water circuits.
Should either thermostat become satisfied, the valve will move leaving only the heating or the hot water port open.
The boiler and pump will continue running whilst there is a demand from one or both thermostats.
If both thermostats become satisfied the pump and boiler will switch off to save fuel.

Pack includes a room thermostat, a Cylinder thermostat, a wiring centre, 22mm Mid Position Valve and a LP241 programmer.

Code: 123157 FP

Availability: In stock
Only £126.66 incl VAT.

Free Delivery to the Mainland UK!!