Bookmark us!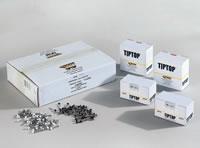 Tell a friend about this!
TIPTOP PLASTIC HEADED PINS BROWN RAL 8017 30MM - TT30BN1
TipTop Pins and Nails from Everbuild are manufactured to the highest quality, with A4 grade stainless steel and colourfast thermoplastic. They are resistant to U.V light and weathering and exceed drop test and are shatterproof. Ideal for fixing PVCu boards, trims, facias & soffits.

Pack Size: 30MM
SHELF:A06.47
Barcode: 5029347605346

Availability: In stock
Only £8.02 incl VAT.
Delivery available to UK/Europe