Bookmark us!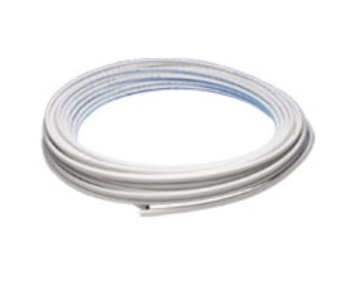 Tell a friend about this!
Speedfit Layflat Polybutylene Barrier Pipe 15mm x 50m - 15BPB-50C(new version)
The new JG Speedfit Layflat Polybutylene barrier pipe has even greater flexibility making the system very easy to handle and worry free.
Flexibility - The pipe is ideal for long runs where a softer pipe material is an advantage so cabling through joists becomes a simple task.
Easier to handle - When removed from the coil, the pipe keeps straight and 'lays flat' meaning there are no issues with the pipe retaining its memory and trying to coil back into place.
Barrier Layer - The pipe is made of 5 layers, the centre of which is a coloured oxygen barrier which prevents the ingress of air into the system, reducing the effect of corrosion on metal components.
Made in the UK - All of our pipe and fittings are made in the UK By JG Speedfit.
Due to its low thermal conductivity, when carrying hot water, Speedfit Pipe is cooler and therefore safer to touch. Note: JG Speedfit pipe inserts must be used.

Features
Lays flat, stays flat, and ultra flexible
Easy to handle and ideal for cabling through joists
Suitable for central heating systems
Polybutylene material for extra flexibility
Manufactured and kitemarked to British Standard BS7291: Parts 2 and Class S
Lightweight and flexible
Lead free and non toxic
INT-CODE: SUPRG11081.62
Part No: 15BPB-50C(new version)
Availability: In stock
Only £92.70 incl VAT.
Delivery available to UK/Europe