Bookmark us!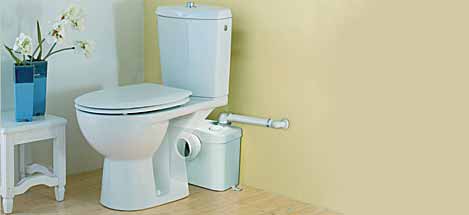 Tell a friend about this!
Saniflo Macerator- 1001 - DISCONTINUED


THIS ITEM IS NO LONGER AVAILABLE - DISCONTINUED!!
- THE LAST ONES BEEN SOLD! 0 STOCK LEFT

Motor: induction motor (no carbon brushes or gears to wear out).
Tested over 30,000 cycles.
Watts (Consumption): 550w
Electrical Supply: 220-240V 50Hz
Flow rate at max head l/min: 44
Horizontal Discharge: 50 metres
Vertical Discharge: 4 metres
Gravity fall on horizontal installations: 1/100
Discharge Pipe Diameter: 22mm
Materials: Polypropylene, C.R.P., stainless steel, Neoprene
Type of WC Pan (not included): Short spigot 100mm HO outlet (BS EN 33/37)
Motor RPM: 2800 RPM
Normal Running Time WC: 10–20 secs subject to installation pipe run
Dimensions (vertical height is measured from floor level) w330mm x h305mm x d180mm (requires 190mm behind spigot)
Technote Designed to fit BS EN 33/37 WC pans. As close coupled cistern dimensions vary, it may be necessary, with certain designs, to utilise a spacer between cistern and wall

Code: 1001

Availability: Out of stock
Only £265.53 incl VAT.