Bookmark us!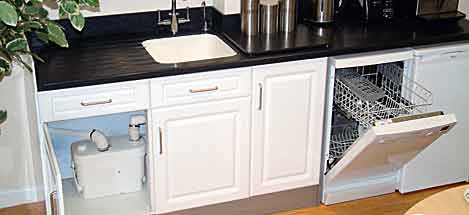 Tell a friend about this!
Sanivite Macerator - 1004 - DISCONTINUED


THIS ITEM IS NO LONGER AVAILABLE - DISCONTINUED!!
- THE LAST ONES BEEN SOLD! 0 STOCK LEFT

Motor: induction motor (no carbon brushes or gears to wear out).
Tested over 30,000 cycles.
Watts (Consumption): 360w
Electrical Supply 220-240V 50Hz
Flow rate at max head l/min 50
Horizontal Discharge 50 metres
Vertical Discharge 5 metres
Gravity fall on horizontal installations 1:100
Discharge Pipe Diameter 32mm
Working Temperature 35oC
Maximum Temperature 60oC
Materials Polypropylene, C.R.P., stainless steel, Neoprene
Motor RPM 2800 RPM
Dimensions (vertical height is measured from floor level) 373W x 350 O/H x 185D
Technote When used with a shower or bath, the shower tray or bath outlet has to be raised 15 cm above the floor.

Code: 1004

Availability: Out of stock
Only £316.60 incl VAT.