Bookmark us!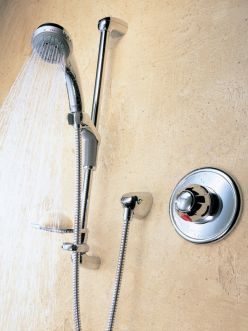 Tell a friend about this!
Mira Combiforce 415 B-biv Chrome (Built in)

Designed specifically for high-pressure water systems, the Mira Combiforce 415 produces a powerful, invigorating shower without an additional pump. It maintains a constant temperature by compensating for changes in water pressure, to give you a consistent, enjoyable showering experience every time.

Chrome, white, white/chrome or white/light golden finishes
Surface-mounted or built-in models - option of rigid shower head with built-in version
Mira Response shower head, with three spray patterns: Start, Champagne, or Massage
Push-button override for an even hotter shower

View larger image
View Installation User Guide
CODE: 344402CP

Availability: In stock
Only £552.34 incl VAT.

Free Delivery to the Mainland UK!!