Bookmark us!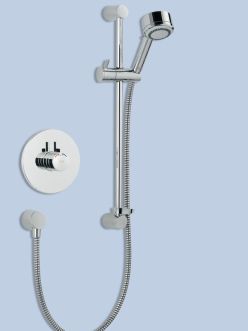 Tell a friend about this!
Mira Miniduo BIV

Mira Miniduo
Small, yet Powerful. Introducing the new Mira miniature mixer range.

* Small, yet powerful, the new Miniduo offers all the performance, at half the size
* Available in built in and exposed variants
* Select & Forget, separate controls for temperature and flow
* Market leading thermostatic performance, safe for all the family
* Complete with Mira Discovery fittings kit, with multi mode handset
* 110mm pipe centres (separate adjustable elbow kit available to retrofit pipe centres between 133 - 153mm)
* 3 year guarantee

Code: 344303CP

View Larger Image
View Installation User Guide

Availability: In stock
Only £299.94 incl VAT.

Free Delivery to the Mainland UK!!