Bookmark us!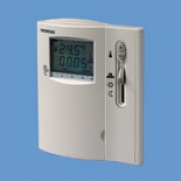 Tell a friend about this!
Siemens RDE10.1 Digital Room Thermostat (battery powered) - DISCONTINUED


THIS ITEM IS NO LONGER AVAILABLE - DISCONTINUED!!
- THE LAST ONES BEEN SOLD! 0 STOCK LEFT


Digital Simple 7 day programming Multiple Ons/Off Ideal for Combi Boilers, underfloor heating and zoning.

Product code: RDE10.1

Availability: Out of stock
Only £53.85 incl VAT.