Bookmark us!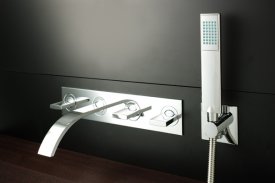 Tell a friend about this!
Apirante Archetto - Bath Shower Mixer - DISCONTINUED


THIS ITEM IS NO LONGER AVAILABLE - DISCONTINUED!!
- THE LAST ONES BEEN SOLD! 0 STOCK LEFT


The Aspirante Mixer range offers the finest in Italian design of beautiful co-ordinating showers and taps. Each Mixer shower offers a dramatically different design solution. When combined with the co-ordinating taps, the effect is truly stunning.

Sprayhead Included

Code:D73347
Code:D73377


Availability: Out of stock
Only £670.82 incl VAT.